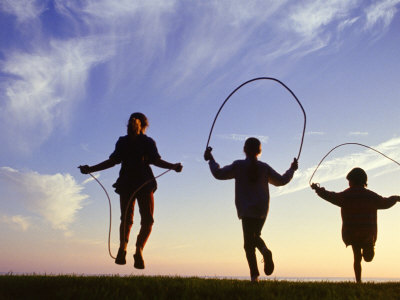 Before there were such things as video technology and luxurious shopping malls, there were dolls and board games and other pastimes to satisfy a child. Imagination and teamwork both played a part in the activities of my childhood. We were seldom bored, always active, and content with a game of hide-and-seek on cool summer evenings.
Looking back, I now see that those were some of the best days of my life...
There was something almost euphoric about the smell of freshly mowed grass- and the way it stuck to our bare feet with the help of morning dew. The feel of the soft clover between our toes as we ran faster than lightning to reach "base".
By day we got sunburned and dusty - and walked miles without complaint. We picked gooseberries and blackberries and roadside flowers for our mother. And at night we were surrounded by fireflies and moonlight and sweet air that made our cheeks glow.
I remember the time that my sister Linda and I got neon jump ropes. Whether it was Easter or Christmas, or a rare splurge at the dime store- we were overjoyed and thankful for our exciting new toy. I can still see that photograph in my mind...A black and white picture that someone snapped of us as we stood in the front yard.
We had on matching black stretch pants and sweat shirts, innocent smiles, and we were clinging to our jump ropes. I believe one was green and one orange- made of a super neon plastic that dazzled our friends and family.
Yes, we were cool...jumping our way across the back yard, down the road, on the porch and through the fields. We had contests for the fastest jumper, the longest jumper and the best jumper . We jumped with a skip technique, a hopping method, and even attempted figure eights when there was a soft place to fall.
Those jump ropes were the first thing we picked up in the morning and the last thing we put down at night. And we treasured them with all of our little girl hearts- until the next toy came along to replace them.
Linda and I loved playing jacks, too, and soon spent days and days perfecting our eye/hand coordination in a round of competition. The smooth wooden floors in our bedroom and the slick linoleum in utility room made a perfect platform for our bouncing rubber ball and metal jacks. I can still hear the clink of those jacks as we rattled them in our fists and tossed them out like silver stars on our play area. There is still the echo of us
announcing "onesies, twosies, and around the world"...
I've always wondered where we laid down those jump ropes or played a game of jacks for the last time. Did we know we'd never skip down that sawdust road again or toss that orange-red ball into the air ? Did we realize that grass would cease to stick to our bare feet- the air would grow less sweet- and our days stretch into adulthood before we knew it?
In my heart I'm still jumping rope...still skipping down County Farm Road with my sister Linda...our long hair blowing in the summer breeze...and our laughter filling the air.